There are always plenty of opportunities to participate in local mission work at the General Assembly!
Assembly organizers have planned all kinds of mission work for Des Moines. Return to this page often to see the latest dates, times, and locations. Some will require registration.
During General Assembly, you can visit the information center to learn more and to sign up for projects around town. Transportation will be provided from the event center to off-site mission opportunities.
SUBJECT TO CHANGE – stop by the information booth in the Welcome Center for the most up-to-date information.
Simulations
Sign up via registration system for simulation workshops
Refugee simulation
You are huddled in a holding area. Nothing is familiar except the faces of your immediate families. It's noisy and uncomfortable. You will get a glimpse of refugee camp life.
Get a small taste of the refugee experience in this simulation, similar to that of refugees who are now living in the upper Midwest. See what it is like to be hustled from one office to another in a confusing legal process. Vignettes will include "Day in our Shoes": access to water, food, medical, basic language skills for shopping, school, job application and other components. Facilitators: Linda Wolf, retired PhD in international and global education, and Vinh Nguyen of Center for New Americans, and others;
1:30 pm Sunday, Hall A; second session 3:00 pm Q & A with Vinh Nguyen and Disciples Home Missions staff, Hall A
Hunger Simulation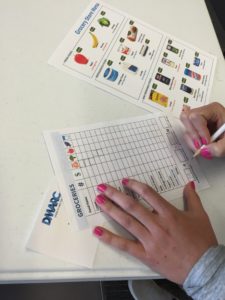 Did you know that nearly one in seven in the US are struggling to make ends meet, putting them at risk for food insecurity? The DMARC Hunger Simulation Experience is an opportunity to better understand the challenges facing many of our neighbors as they try to provide healthy food for their households. This interactive and hands-on experience lasts about an hour and a half and is ideal for adults and youth (6th grade and up), but children are welcome to participate with an adult. Join us to learn more about the issue of food insecurity and ways to make a difference!
The DMARC Food Pantry network assists 17,500 individuals each month in the great Des Moines metro area, providing access to healthy, high quality food. Our work would not be possible without the support of many communities of faith working together—of which the Disciples of Christ are a very important part!
Tuesday at 1:30 or 3:00 pm in Hall A
******
Community Blood Drive – LifeServe Blood Center
Many people think blood donations are only needed around the holidays or following major tragedies and natural disasters. They're wrong.
While blood is needed in these situations, it's also true that donated blood is needed every day to meet the needs of local hospital patients, especially in the summer months. Frequent blood donations help LifeServe Blood Center maintain a stable blood supply and to be prepared when tragedies and disasters do occur.
Every 2 seconds, someone needs blood. Every day, 38,000 people need blood. Schedule your appointment now for our blood drive by clicking the link below. Each donation saves three lives!  LifeServe is the sole provider of blood and blood products to 120 local hospitals.
Check out this offer for first time donors  |  Here are some fun facts
LifeServe will be taking donations from 11 AM – 4 PM on Monday July 22nd, and Tuesday July 23rdin the mobile unit in the southeast parking lot.
Sign up for Monday    Sign up for Tuesday
For any additional questions about donations please go to https://www.lifeservebloodcenter.org/
******
Other mission activities
The local area mission run buses will have a bright yellow sign in the windshield or in the door that says "Local Area Mission" and leave from the shuttle bus stop.
Worship/Mission combo
After worship service at 10 a.m. Sunday July 21 at First Christian Church of Adel (218 North 9th St. Adel, Iowa), featuring preacher Dick Hamm, at 11:30 a.m. enjoy the fellowship and service of assembling Church World Service Hygiene Kits and then enjoy an Iowa Picnic Dinner!
Advanced reservations are needed. Use button above to get to registration and scroll down.
Food Bank of Iowa
Food Sorting: Labeling, counting, and boxing donated food.
Volunteers must be aged 10 years or older. Wear layered clothing and must wear closed-toed shoes (no sandals).
Date(s)/time(s): Monday, July 22nd [1pm-4pm], Wednesday, July 24th [8:30am-11:30am; 1pm-4pm] Sign up
Location(s): Food Bank of Iowa Volunteer Center located at 2220 E. 17th Street Des Moines IA 50316
A shuttle will be provided Monday. The local area mission run buses will have a bright yellow sign in the windshield or in the door that says "Local Area Mission" and leave from the shuttle bus stop. Volunteers must provide their own transportation on Wednesday..
Central Iowa Shelter & Services (CISS): FULL
Serve a meal to members of the community experiencing homelessness. Disciples will not be responsible for meal preparation, only serving.
Children under 18 must be accompanied by an adult.
Date(s)/time(s): Tuesday, 7/23. 11:00am to 1:00pm
Location(s): 1420 Mulberry St, Des Moines, IA 50309
Des Moines Area Religious Council (DMARC)
Red Barrel Events:
Small groups of disciples are invited to be present at a Des Moines area grocery store to greet shoppers and encourage them to give cash or purchase donations to drop in the red barrel to benefit the food pantry system.
All Ages welcome.
Date(s)/time(s): Monday, July 22nd 5:30-8pm and Tuesday, July 23rd 5:30-8pm Sign up
Location: HyVee at 4605 Fleur Dr, Des Moines, IA 50321
Gardening  FULL
 All ages. Wear old clothes, hat, gloves, sunscreen.
This community garden is part of a network in the Des Moines area which donates all their produce to local food pantries. The goal is to donate 8 tons of fresh vegetables grown from these gardens this year!
Tuesday, July 23rd 8-10am (Full as of 7/2/19)
Faith and Grace Garden at 1020 24th St, West Des Moines, IA 50266
Blanket Project
(crocheted, knitted, and tie fleece)
We will be making blankets/lap robes for children and elderly during the General Assembly. The completed lap robes will be shared with area nursing homes to give to new residents as a welcome to the facility and children's blankets will be distributed by our Department of Human Services throughout the state to be given to children who have to be removed from their homes. In both of these situations the blanket will help the recipient know that someone cares about them.
Participants are invited to bring size 13 knitting needles or size N crochet hook as well as yarn to make a blanket. There will be yarn available at our location in the Iowa Events Center as well as a limited number of crochet hooks and knitting needles.
We will also be making fleece tie blankets throughout the assembly. If you'd like to make yours early, here are some instructions  Word  PDF
We will accept volunteers of all ages to help with the project but children 10 and under will need to be accompanied by an adult. We will be open from 9:00 a.m to 5:00 p.m. daily during the assembly.
We have  some sample patterns ( PDF) if anyone would like to make blankets before the assembly and bring them to the assembly completed.
We could use donations of 4 ply yarn or fleece that are 1 ¾ yds long by at least 42 inches wide. Donated or loaned crochet hooks or knitting needles are also wanted.
Our project area will be located in the Iowa Events Center. Check back here as this entry will be updated when a more specific location is identified. Otherwise, inquire at the information booth or mission booth at the General Assembly.
Letter Writing Campaign
During brief moments of free time at the General Assembly you can participate in this mission opportunity without leaving the Iowa Events Center. Send a handwritten letter to legislators and community leaders to express gratitude, build connections, and advocate for important issues. Stationery and examples will be available. Sign up
Iowa Homeless Youth Center
Pulling weeds, watering plants, planting herbs, etc in a garden on the rooftop of the building where the homeless youth grow their own food and learn gardening skills
Kitchen prep (help make a dish for lunch/dinner)
Light cleaning of the facility (clean windows, art room, etc.)
Organize donation closet (size clothes, put clothes on hangers)
Do an activity with youth (play a game, make a craft, etc.)
Dates/Times: Mon 7/22 8-10am and Wed 7/24 7-9am (The local area mission run buses will have a bright yellow sign in the windshield or in the door that says "Local Area Mission" and leave from the shuttle bus stop. Wednesday volunteers will need their own transportation)  Sign up
Location: Iowa Homeless Youth Center; 612 Locust St
Dirty Disciples
The Veterans Hospital, the City of Des Moines, and local churches have helped us identify several individuals in the community who need our help! Yard work is a common request but please let us know if you have a specialized skill (ex: plumbing) and we will see if we can match it with someone in need.
Attire: closed toed shoes, long pants, hats, sunscreen, and bug spray recommended
Tools/equipment will be provided
 Locations: various sites around Des Moines and immediate suburbs
Saturday 7/20 10am-1pm, Saturday 7/20 6-8pm, Sunday 7/21 6-8:30pm, Monday 7/22 10am-1pm, Mon 3-6pm
Central Iowa Shelter (CISS) Donation Sorting FULL
Sort donations (clothing or hygiene products)  at CISS (1420 Mulberry Street in Des Moines).
Close-toed shoes recommended.  All ages are welcome
Mon 7/22 10am-12pm .
River Cleanup with Joppa – Cancelled
Take part in a cleanup effort near the Des Moines river! Our partners at Joppa (the homeless outreach organization) will be hosting a river cleanup. Our host will meet us at the shuttle bus sign in the Welcome Center at the 3rd Street drop off (HyVee Level 2) and walk us over to the river cleanup area. There you will help to clean the river bank, which will be positive for the environment and will help beautify Des Moines. You will also be providing a benefit to Iowa's homeless population, some of whom reside along the river and surrounding areas. Sign up
Saturday 7/20 9am-12pm
Youth under 18 must have a waiver signed by a guardian
All necessary supplies will be provided
CISS T-shirt Bags
Serve CISS without leaving the Iowa Events Center! We invite you to help us transform old t-shirts into reusable cloth bags that CISS clients use in the clothing closet. Please bring your own long sleeved, short sleeved, or sleeveless t-shirts and scissors if possible but some will also be provided. Instructions will be included here if you would like to bring pre-made bags to donate. Instructions for making bags
Disciples Women's project
Disciples Women will be supporting Dorothy's House of Des Moines, IA as our GA2019 service project. They provide a safe place for the practice of life for survivors of sex trafficking and sexual exploitation. It is a long term, residential home that provides survivors with the space, resources, and support needed to find their healing journey. Every survivor has a unique set of needs and personal goals. They strive to provide the resources that will most specifically fit her plan.
If you would like to support this project we are asking for grocery store gift cards preferably for Hy-Vee but all grocery stores in the area are good options. Others suggested are Aldi, Fareway, and Price Chopper. You can drop them off at the Disciples Women booth by 5:00 p.m. on Tuesday, July 23.